Bullseye
Regular price
$15.04
Sale price
$13.53
Unit price
per
Sale
Sold out
Bullseye 1322 30F Transparent 90 COE Double Rolled Fusible Garnet Red Cathedral
No boxing fee.  No minimum.  
Use the pull-down tab to select your size:
8" x 8" Stained Glass Sheet, 
or 
8" x 4" Sample Piece. 
Choose one of our store-wide coupons! 
Free US Shipping on orders over $150 with coupon code SHIPFREE, or 
10% off purchases of $50 or more with coupon code TAKE10. 
Bullseye Garnet Red Cathedral:
Unfired, this glass appears as a bright, sunny orange - ideal for stained glass work. When fused, glass will fire to a rich deep garnet color.
For high-quality kiln work, the flatter double-rolled glass minimizes bubble entrapment. 

Bullseye Garnet Red Striker is a Sulphur/Selenium bearing glass and may react with glass that contains copper or lead. The Standard thickness is 3 mm. 90 COE. 
Bullseye Striking Glass
This is a Bullseye Color that Strikes - Bullseye produces some glasses that appear pale or even colorless in their cold form but "strike" or mature to a target color when fired to the right temperature. Stained glass and mosaic makers should beware of striking glasses. The unfired sheet colors for strikers vary widely and may not be suitable.
Photos are a general representation of glass colors. Colors and brightness may vary by light source and direction, camera and viewing device. 
The second image shows a sheet of the glass in strong light after firing.  The first image, and remaining images, show the glass pre-fired.
Sizes are Approximate.
Fast Shipping:
Bradstreet Glass ships every order within one business day, meticulously packaged for protection. We make every effort to ensure your stained glass arrives quickly and to your complete satisfaction.
Share
View full details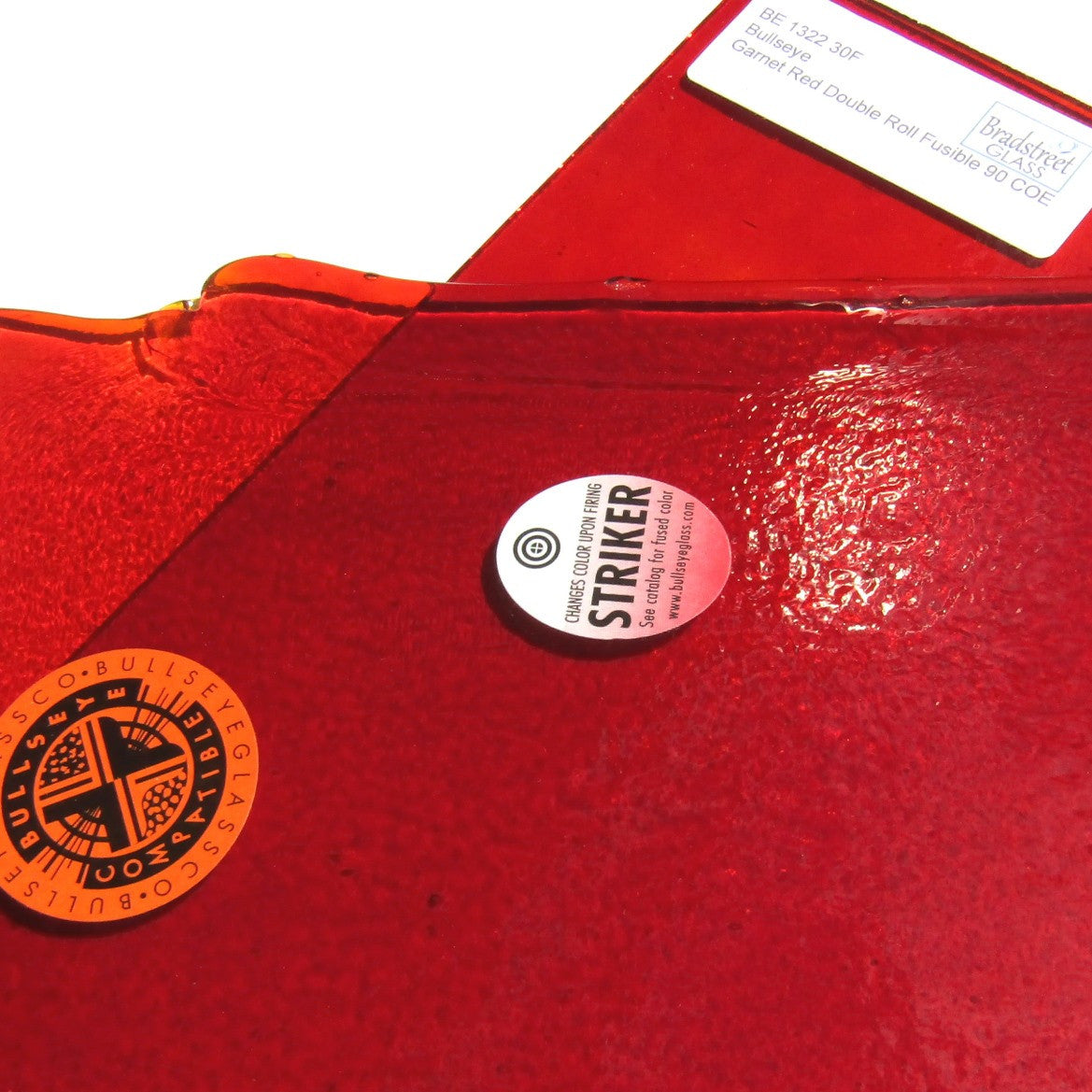 Variety of color and types of glass
Glass looks good. Shipped quickly. Well packed. I have had Several orders, NO BRAKAGE! I am happy and continue to order from here
Cathedral red 90 coe
An absolute stunning piece of glass. Double rolled so it has added texture but let's in plenty of light. Easy to cut and work with. Love it. Debbie at Bradstreet was quick to respond to my questions and handled my concern within one day. Highly recommend this glass and this company.